WHAT IS THE UWC?

The Ultimate Waterfowlers Challenge is as an organized system for the avid waterfowler to track and document every species of waterfowl they harvest in an attempt to accomplish achieving The North American Waterfowl Grand Slam!

The goal is for each and every UWC Member to harvest all 41 species of waterfowl that inhabit then lands and waters of North America. Along the way each member will achieve certain benchmarks and will receive plaques and trophies for their accomplishments.

There are three certification levels along the way to completing the North American Waterfowl Grand Slam:

1. The Master Waterfowl Hunter Certification at 15 certified birds
(Includes a $100 14 x 17 wall plaque) Click here for details
2. The Master Elite Waterfowl Hunter Certification at 30 certified birds
(Includes a $150 custom wall plaque valued at $150) Click here for details
3. The Grand Master Waterfowl Hunter Certification at 41 certified birds
(Includes Grand Prize King Eider trophy valued at $550) Click here for details

There are two ways to join the UWC Challenge:



Standard Lifetime Membership

– Sale Price $99 (Normally $125)
Includes: UWC Hat and T-shirt, UWC Member Certificate, Member Handbook and Waterfowl Hunter ID card. (Note: each waterfowl species registration is $5.00 per bird, to help cover the cost of the plaques and trophies.) Click here for more details



Gold Lifetime Membership

– Sale Price $495 (Normally $550)
Includes: Everything listed in the Standard Membership, as well as all waterfowl species submissions for life, a custom UWC Waterfowl Parka, and a laminated UWC Waterfowl ID poster. Click here for more details


FEATURED UWC MEMBER OF THE MONTH FOR: MARCH


GREYSON PONDER
WF-000-975
ILLINOIS


Greyson Ponder is one of our very youngest active members at The UWC, but from what we quickly learned, is one of our more experienced waterfowlers. In fact, even though Greyson has yet to reach the first certification level of The UWC, or the fact that he still cannot legally drive a car, he has already accomplished more at age 13 than most waterfowl hunters will in a lifetime. Grayson has been actively trying to complete the North American Waterfowl Grand Slam on his own since he shot his first duck- a drake Common Eider, off the East coast in a layout boat with his Dad, at age 7. When asked about the experience Grayson said he couldn't even cock the hammer back on his single shot 410 at the time but he was a dead eye from the start and he dropped the big bird with a single shot!

From that point on he was hooked. Being blessed by a very supportive and passionate family, his father Michael has gently pushed Greyson to fulfill his dream, being careful not to overstep and make it about him, but keeping it about fulfilling Greyson's dream of completing the N.A. Waterfowl Grand Slam. And his mother Carolyn has supported all of the trips it has taken to pursue the 41 species (42 in Greyson's case as he is also adamant about adding both the Atlantic and Pacific Common Eiders to his collection).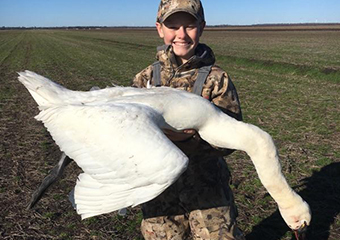 In speaking with Greyson about his accomplishments, thus far he stated that his most memorable hunt was with his father on St. Paul Island, Alaska at age 9. Using his 20 gauge Benelli shotgun, he and his father were able to limit out on 4 King Eiders a piece that day. In fact that turned out to be one of Greyson's most memorable hunts as not only did he harvest a full limit of Kings, but he recalls a pair of the big drakes flying from left to right at about 50 yards and he and his Father each squeezing the trigger once and both birds fell. A memory Greyson will cherish forever.


Since starting his waterfowl hunting career 5 years ago Greyson has already been to Alaska 4 times and also down to Mexico. He only has 2 birds left to complete his Grand Slam- the Common Merganser and the Hooded Merganser. Both of which he feels confident he will harvest in his stomping grounds near Green Bay, Wisconsin this coming season.


After speaking with Greyson, what was most impressive, outside of the fact that by age 13 he has already harvested 39 of the 41 waterfowl species in North America, using only a 20 gauge and 410, was the fact that he is a very mature, well spoken and humble young man. Greyson truly enjoys the sport of waterfowling and can already appreciate how lucky he is to have the opportunities he has been given by his parents. It was very evident that the strong hunting ethics and conservation mind of his father Michael, along with his family's core life values, have been passed down and instilled into Greyson at a young age. Both of the Ponder's get as much enjoyment by taking out as many new hunters as they can each year and helping them be successful in the marsh, as they do partaking in the actual hunt themselves. At The UWC we feel honored to have this magnificent Father / Son combo as valued members and can't wait to watch their success. Be sure to follow Greyson's journey on Facebook at: https://www.facebook.com/greysonwestadventures as he completes his own Grand Slam and continues on to The UWC Grand Master Waterfowl Hunter Certification.
READ MORE STORIES HERE >>